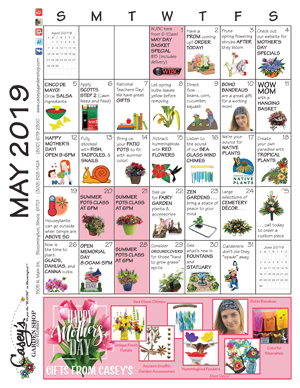 Our 70 Days of spring celebration continues with a live remote from WJBC, a fantastic deal on May Baskets and 3 Summer Porch Pot classes! Mother's Day is May 12th - order your favorite Mom beautiful flowers HERE!
Download Calendar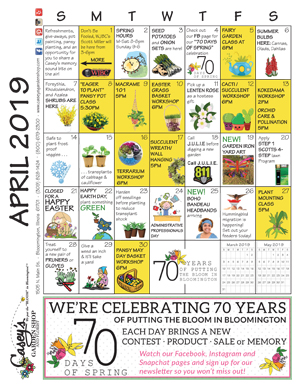 We hope you will join us as we celebrate 70 years of Putting the Bloom in Bloomington with our 70 Days of Spring Celebration that continues during the month of April. We'll be featuring new products, pop-up sales and more! An April 1 visit by WJBC's Scott Miller will include refreshments, giveaways, pot painting, pansy planting and an opportunity for YOU to share a Casey's memory sound bite on the air! We are also featuring 11 fun classes - so hop on over to our Classes & Events page and get the details!
Download Calendar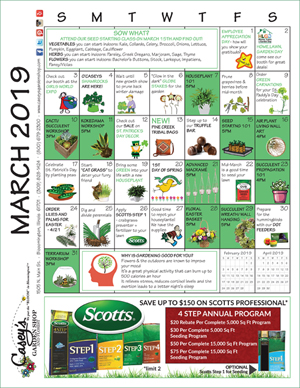 10 Classes to get you in a SPRING frame of mind! Learn the tips and tricks of starting seeds and growing your own bedding plants in our FREE class on March 15th! Purchase your Scotts 4-Step program and take advantage of the rebates - save money AND get a beautiful lawn. Learn the positive mind altering benefits of gardening.
Download Calendar