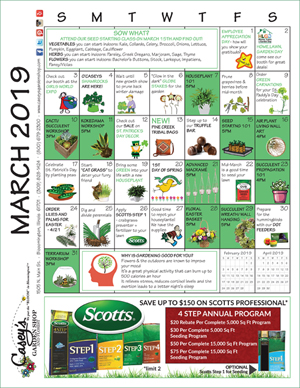 10 Classes to get you in a SPRING frame of mind! Learn the tips and tricks of starting seeds and growing your own bedding plants in our FREE class on March 15th! Purchase your Scotts 4-Step program and take advantage of the rebates - save money AND get a beautiful lawn. Learn the positive mind altering benefits of gardening.
Download Calendar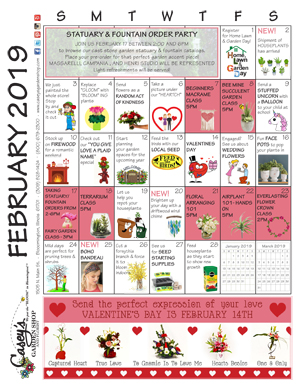 Get all of the information you need about the 17th Annual Home Lawn & Garden Day, sign up for one of our 7 NEW and fun classes, attend our Cast Stone Statuary & Fountain Pre-rder Party, browse the catalogs and enjoy light refreshments, order your favorite Valentine beautiful flowers, sweet stuffed annimals, delicious chocolates and fun balloons HERE!
Download Calendar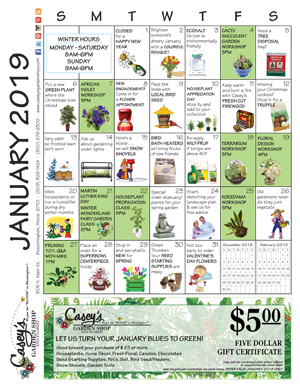 We're featuring 7 classes to help you beat the winter blues in January. One is perfectly timed to give your kiddos something to do on Martin Luther King Jr. Day. Sign up on our Classes & Events page! Be sure to take advantage of our $5 gift certificate at the bottom of our calendar - good this month only. We've got an amazing selection of houseplants just in - stop by and enjoy the green!
Download Calendar