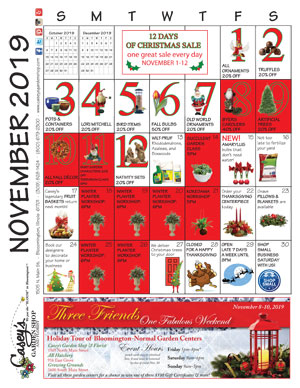 SAVE THE DATE : Three Friends, One Fabulous Weekend Hoiliday Tour of Garden Centers - visit all three garden centers for a chance to win one of three $100 gift certificates, 5 opportunities to participate in our popular Winter Planter Workshop plus a Kokedama, Terrarium & Succulent class with John, and enjoy our Annual 12 Days of Christmas Sale!
Download Calendar
Looking for fall? We've got it all this month at Casey's. Our Fall Family Festival on the 13th offers 4 classes to enjoy as a family and as a special bonus, The Zoo Lady will be here ready to paint the faces of all who have signed up for a class that day! On October 20 we will once again be hosting Characters for Kids. Look for Captain America and friends to be handing out candy from 1:00 to 3PM. There are an additional 13 Classes & Workshops this month get the details HERE!
Download Calendar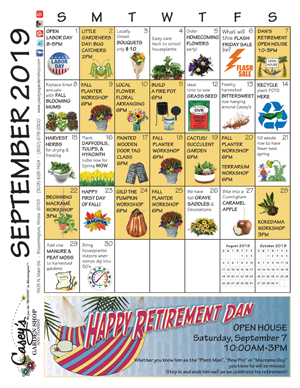 Dan's Retirement Open House PLUS 13 new classes & events - download our calendar for gardening & class reminders!
Download Calendar