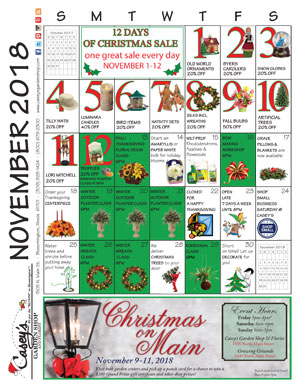 Our Annual 12 Days of Christmas Sale begins November 1 culminating in our Christmas On Main Open House and tour of Main Street Garden Centers. We've also got classes to help you get ready for the holiday season - learn more on our Classes & Events page.
Download Calendar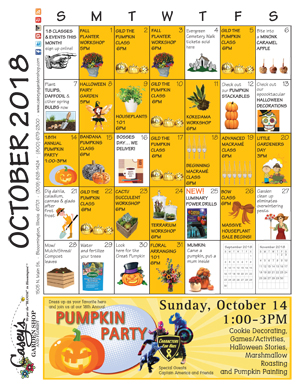 We're featuring 19 classes and special events in October. Sign up on our Classes & Events page! Our 18th Annual Pumpkin Party is October 14th and we've invited some special guests - Captain America and his friends from Characters for Kids will help you get your super hero on. And don't forget Bosses Day is Tuesday, October 16. Our Little Gardeners series continues on October 20. Our biggest houseplant sale of the season begins October 26 so we can make room for Christmas.
Download Calendar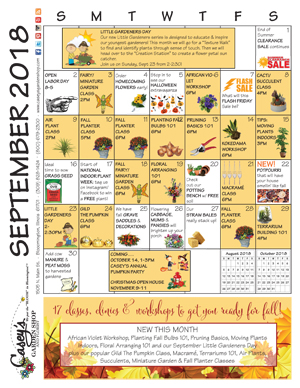 17 classes, clinics & workshops coming your way in September - everything you need to get your home and garden ready for fall!
NEW THIS MONTH : African Violet Workshop, Planting Fall Bulbs 101, Pruning Basics, Tips on Moving Plants Indoors, Floral Arranging 101 and our September Little Gardeners Day plus our popular Gild The Pumpkin Class, Macramé, Terrariums 101, Air Plants, Succulents, Miniature Garden & Fall Planter Classes. Sign up on our Classes & Events page.
Download Calendar